+/- 1℉ TEMP. PRECISION: Professional barista cares the precise temperature to extract the best aroma from coffee ground. Thanks to the NTC sensing module, you can act like a Pro by our G560 electric pour-over kettle which allows you to set your temp. (recommended from 197℉ to 204℉) at precision of +/-1℉! Furthermore, its temp holding function (up to 120mins) will allow you keeping your desired temperature automatically and accurately. It is perfect for blooming coffee and tea.
ZERO PLASTIC AND HIGH SAFETY STANDARD: Barista cares the water chemistry for a perfect coffee and we too! The internal body of G560 gooseneck kettle is made of prime food-grade 304 stainless steel and it provides zero plastic contact with water. The entire product is ETL and FCC certified associating with a UK Strix controller. Also, its Dry-boil protection and Auto Shut-Off function provides you confidence in safety.
GOOSENECK PRECISELY ENGINEERED: The 8mm diameter spout combined with the precisely gooseneck shaped to ensure precise pouring and steady control of the water flow at 90 degrees to the coffee ground. It gives perfect blooming and extraction of coffee ground easily even by a beginner and pour over like a Pro!
PREMIUM MATERIAL USED: Unless other kettles which use plastic as the handle. The G560 electric coffee kettle is using high quality real walnut wood as the handle. Shapes is ergonomically designed and counter balanced. It provides you with an easy and light weighted brewing experience. The smart dial is machined by robust aluminum alloy. Together with the body is abrasive resistant coated which provides better endurance of your pour-over kettle life.
FAST BOILING & HD LED DISPLAY: The 1,350W power wattage of the G560 electric gooseneck kettle ensures fast and efficient heating to your desired temperature. Boiling 1.0L of water in just 4-5 minutes. Also, the HD LED display allow you to know the boiling and keep warm status easily.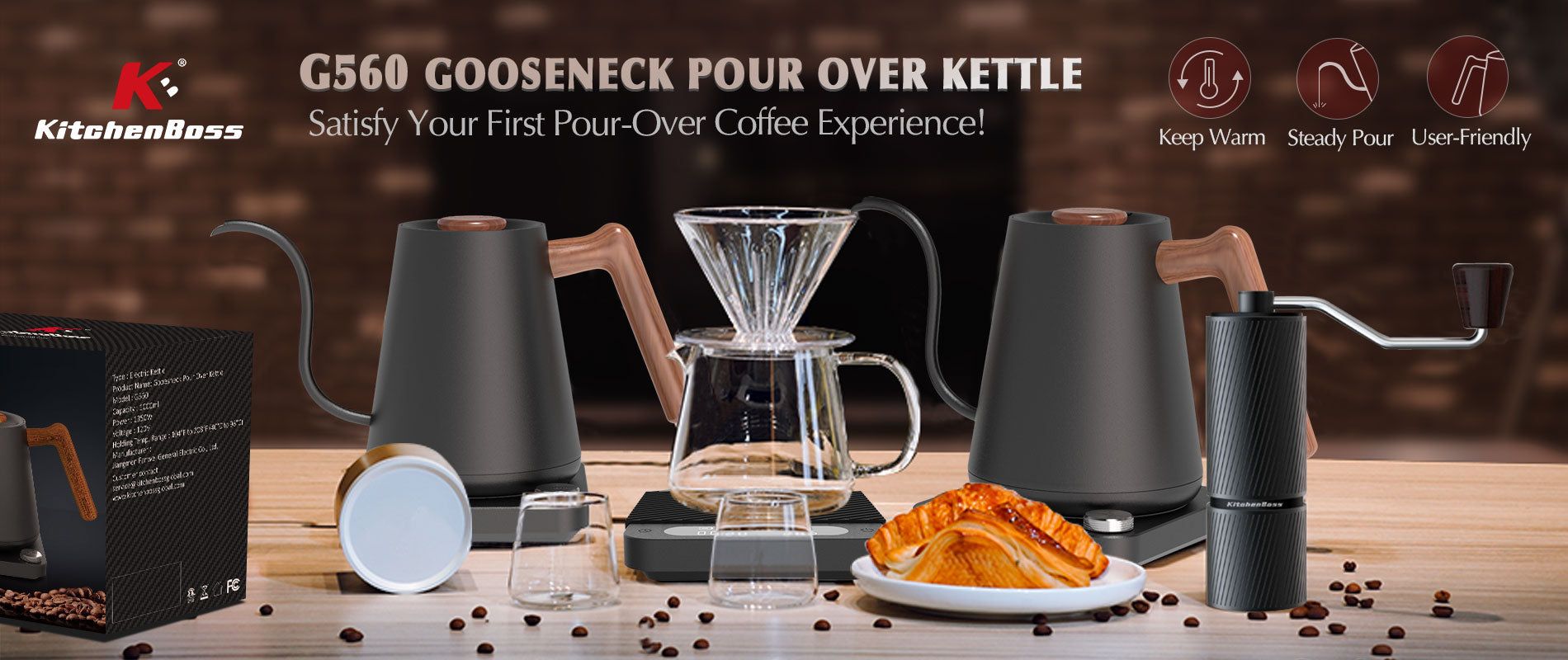 Everyone could be a professional barista easily!  
This is our intent to design the G560 as a smart kettle which suits from beginners to any baristas. The G560 has passed ETL, FCC and food safety compliances. Each kettle for pour over needs to pass uncountable steps in inspection and testing before reaching to your hand.  
We aim to give you a professional experience and high-end quality at a preferential value.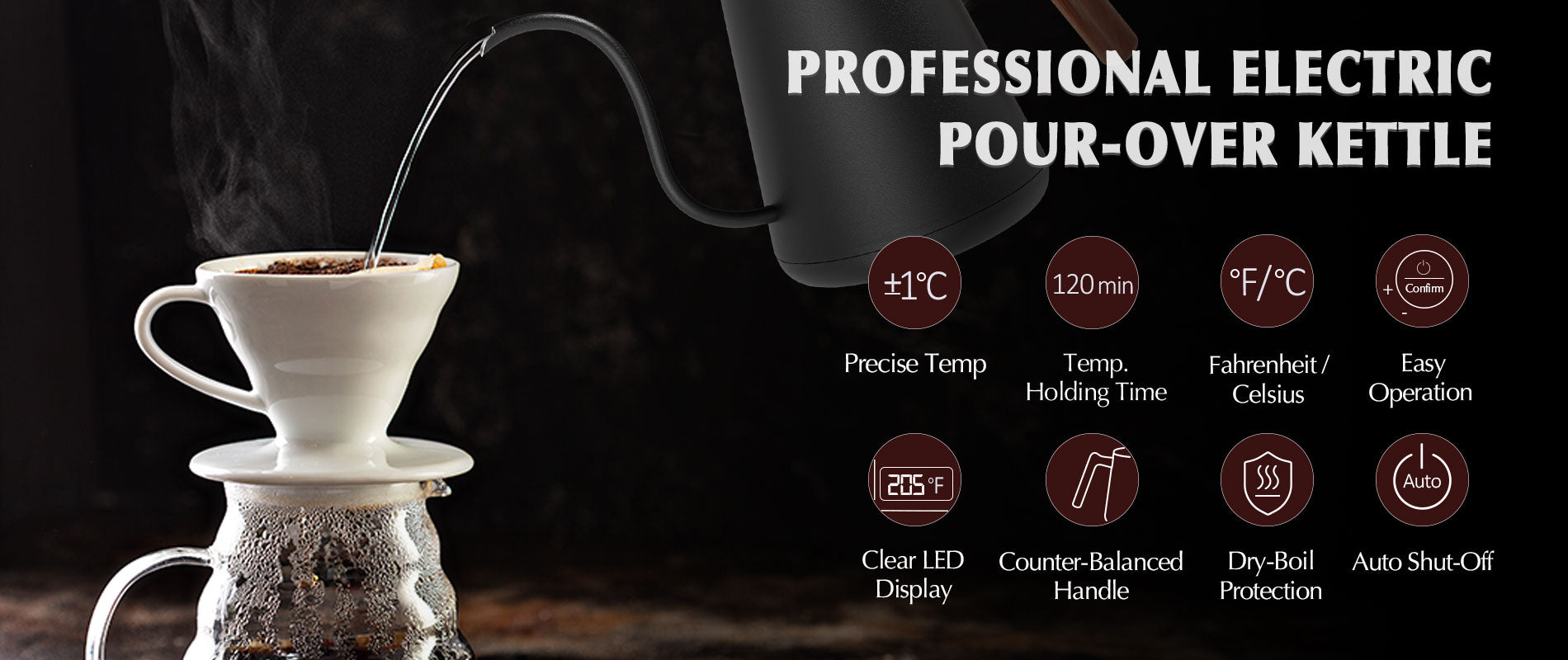 What can our electric pour over coffee kettle do?
Are you still confused by your electric gooseneck coffee dripper kettle unable to control the water flow steadily and vertically?
If you want brew a pour over coffee at ease, KitchenBoss G560 gooseneck temperature control kettle is your excellent choice!
Unlike no other, we consult professional barista's requirement to craft the shape of our gooseneck shape.  Combined with the 8mm diameter spout engineered. Everyone could pour like a Pro easily to achieve a steady water flow and achieve the best extraction!
What is more the handle are made from premium walnut wood and designed ergonomically.  While the kettle is equipped with high-end NTC temperature sensing system to maintain the best temperature for coffee extraction.
Even if you are a pour over coffee beginner, or an experienced baristas. We are convinced that G560 is the excellent choice but at reasonable price to get all those best performances combined.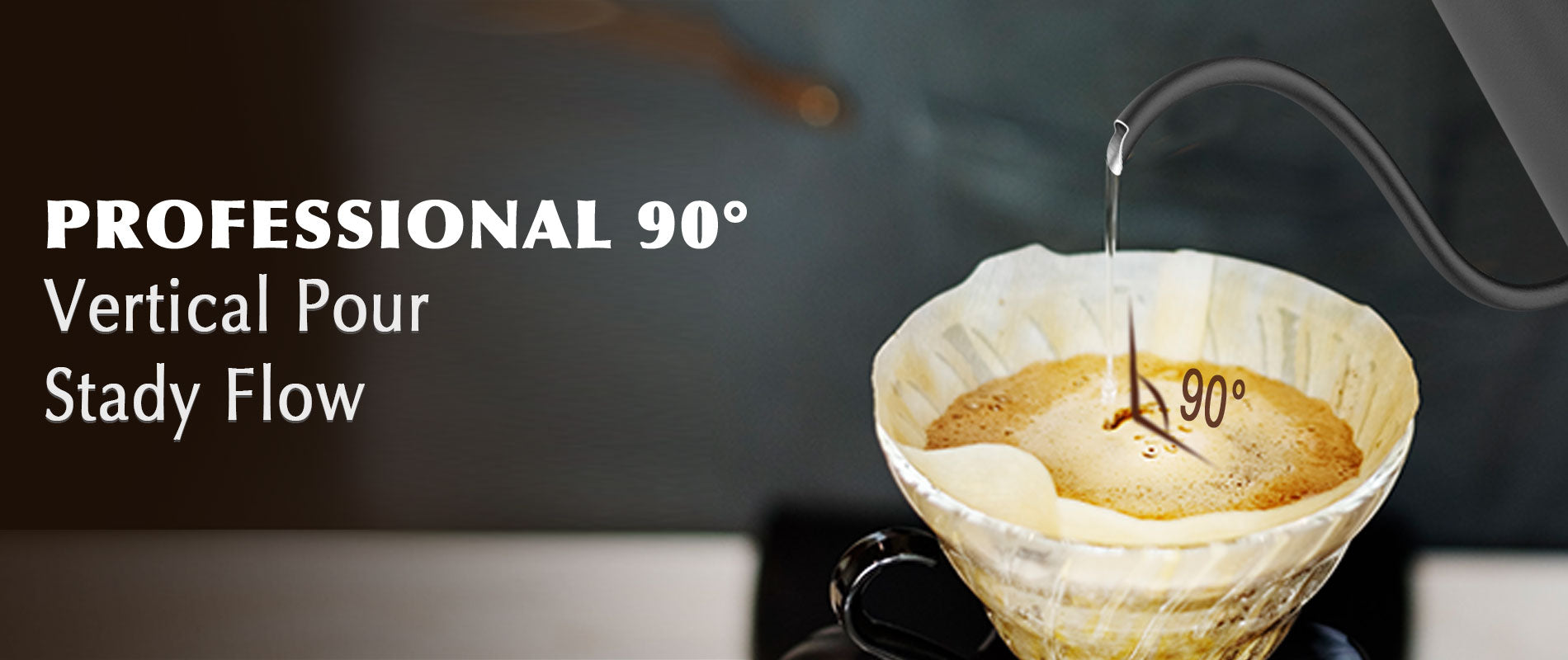 DRY-BURNING DESIGN

G560 gooseneck kettle temperature control built-in throttle valve at the bottom, which is safer to prevent dry burning and effectively improves the service life of the kettle. The seamless food-grade stainless-steel construction, that is both stain and corrosion resistant. Zero plastic achieved internally, with internal water level markings.

TEMPERATURE MEMORY FUNCTION

The G560 temperature control gooseneck kettle has a temperature memory function, which can automatically save the temperature setting you used last time. Prefill the water before, so that you can heat it to the temperature you need by pressing the heating button the next morning, so as to quickly get a cup of fragrant coffee.

LEAK-PROOF DESIGN

G560 pour over coffee kettle unique industrial design keeps your kettle leak-proof for daily use, easy to fill and pour over. Ware Reminder: Align the steam vent on the lid with the prompt label indicated, which can effectively prevent steam burns.