KitchenBoss Vacuum Sealer, Enjoy the convenience of life!
Keeping food 8 times longer freshness: Up to 60KPA vacuum machine has a strong suction, which could lock the nutrients of various food. Compared with traditional storage method, it can prolong the fresh storage time by 8 times.
Saving money & time & space: By vacuum Sealing, food can stay fresh longer and you could save a substantial amount of money to buy the extra part. And vacuum storage saves space of the refrigerator so that you could store more.And you can prepare breakfast ahead of time for a busy workday and vacuum store it, which saves you a lot of time.
KitchenBoss Vacuum Sealer, the most ideal choice for saving the food.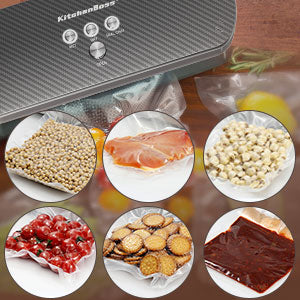 Ideal for Food Freshness
KitchenBoss vacuum food sealer is designed with multi-function to provide your food with best possible preservation and freshness based on your different types of food, such as meat seafood vegetable fruit snacks and so on.
Whether you want to stock up on specials for meat / seafood or preserving your own garden home-harvested fruits and vegetables, KitchenBoss vacuum sealer will be a great helper.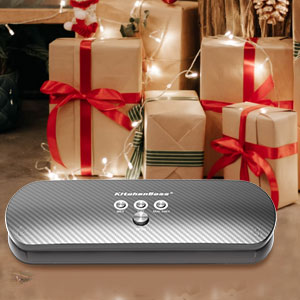 Good Assistant for Food Preparation
KitchenBoss Vacuum Sealer Machines, a good assistant for home delicious cooking. Sous Vide, originally from the French for "under vacuum" because it often involves sealing food in plastic, allows you to cook food gently in an automatic water bath to the perfect temperature.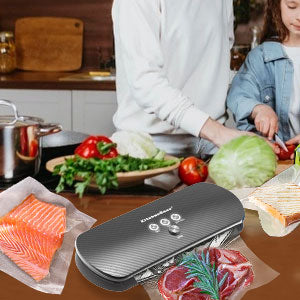 Surprise Gift For Your Family
Anyone who manages a family effectively will love having this amazing vacuum sealer gift. KitchenBoss designed the carbon fiber pattern made of high-quality materials for the first time. It has an elegant and high-end appearance, and the performance has also been further upgraded.
1of Vacuum Sealer Machine G208  Automatic Kitchen Vac Sealer Machines Dry and Moist Food Storage Preservation by KitchenBoss ,with Starter Kit Inclued 20 PCS Bags
Super Suction: KitchenBoss vacuum sealer has -60 Kpa suction, can suck faster and more thoroughly, locking the nutrients of various ingredients in the same time. Tips: When pumping, please be careful not to make the vacuum bag cover the pumping port on the right side of the vacuum chamber.

Multifunction: Dry/Wet/Seal/External.The multifunctional all-in-one vacuum sealer for your volume food purchase and bulk food storage needs."Dry" mode is for all regular foods."Moist" mode is for soft foods." Seal Only" is suitable for sealing roll bags.

External Vacuum Function: You can safely use the vacuum containers to preserve your soups, wine, coffee beans, small cookies and other foods. Kitchenboss vacuum machines support vacuuming of external containers.

Unique Design: KitchenBoss vacuum sealer have an exclusively designed carbon fiber panel that gives the product a more unique design.

Anti-melt Bag Design: The machine has a built-in temperature control chip, so there is no risk of melting bag. The simplicity of the function area makes the multifunctional machine extremely easy to operate. Higher quality production level and design patents than similar products.

Keeps 8X Fresh: KitchenBoss vacuum sealer keeps food fresher in the freezer up to 8 times longer than normal storage methods, and helps prevent food spoilage.

Open lid protection, Opening the lid will automatically turn off the heat element,ensuring safety.
1 of Vacuum Sealer Rolls Bag, 6 Pack 6" x16.5' and 8" x16.5' Food vacuum Saver Bag Rolls with Cutter Box,Sous Vide Roll Bag, by KitchenBoss
Better value and easy to use: includes 3 rolls 6"x16.5' + 3 rolls 8"x16.5' and 2pc cutting box . kitchenboss food saver bags rolls come with newly designed cutting box. this eliminates the fussing with scissors and no longer worry about the bags rolling freely. the box can be reused.

High quality: safe, nontoxic, good vacuum effect, high transparency, tensile strength and durability, easy to heat sealing, sealing good, not easy ageing etc.

Safe, convenient, risk free: bpa-free. Can be microwaved, frozen, re-used, washed, boiled and dishwasher safe. great for sous vide cooking.friendly tips:if you want to use it in a microwave oven, you need to open the bag.

Works in all vacuum sealer machines: Designed for use with all vacuum sealers.

Easy to cut and seal: one side recess groove design, other side glossy transparent design. 4 mil heavy-duty bags with embossed air-removal channels for maximum freshness.