KitchenBoss Vacuum Sealer, Enjoy the convenience of life!
Keeping food 8 times longer freshness: Up to 60KPA vacuum machine has a strong suction, which could lock the nutrients of various food. Compared with traditional storage method, it can prolong the fresh storage time by 8 times.
Saving money & time & space: By vacuum Sealing, food can stay fresh longer and you could save a substantial amount of money to buy the extra part. And vacuum storage saves space of the refrigerator so that you could store more.And you can prepare breakfast ahead of time for a busy workday and vacuum store it, which saves you a lot of time.
KitchenBoss Vacuum Sealer, the most ideal choice for saving the food.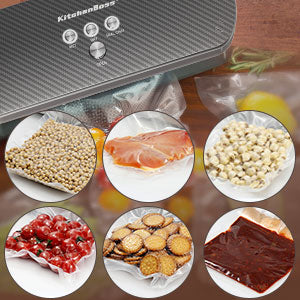 Ideal for Food Freshness
KitchenBoss vacuum food sealer is designed with multi-function to provide your food with best possible preservation and freshness based on your different types of food, such as meat seafood vegetable fruit snacks and so on.
Whether you want to stock up on specials for meat / seafood or preserving your own garden home-harvested fruits and vegetables, KitchenBoss vacuum sealer will be a great helper.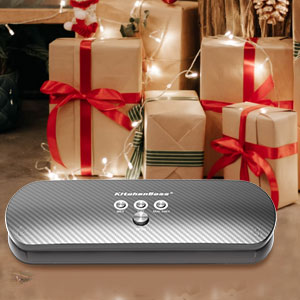 Good Assistant for Food Preparation
KitchenBoss Vacuum Sealer Machines, a good assistant for home delicious cooking. Sous Vide, originally from the French for "under vacuum" because it often involves sealing food in plastic, allows you to cook food gently in an automatic water bath to the perfect temperature.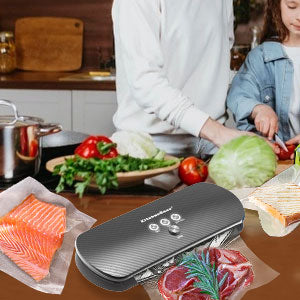 Surprise Gift For Your Family
Anyone who manages a family effectively will love having this amazing vacuum sealer gift. KitchenBoss designed the carbon fiber pattern made of high-quality materials for the first time. It has an elegant and high-end appearance, and the performance has also been further upgraded.