Beef Burger with Caramelized Onions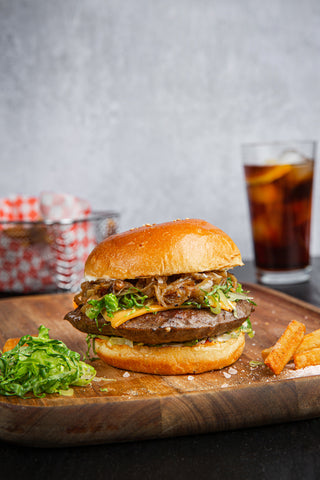 Cooking Time:1 to 2 hours and 30 minutes   / Prep Time:15 minutes / Serves:4 
Why would anyone sous vide a burger when they can easily be pan fried or grilled? Hear us out! Precision cooking with the sous vide provides you with a consistent way to give your beef patties unmatched juiciness!
Temperatures and Timing
| | | |
| --- | --- | --- |
| Doneness | Temperature Range | Timing Range |
| Medium rare  | 125 °F(49 °C) | 1 to 2 hours |
| Medium | 130 °F(54 °C) | 1 to 2 hours |
| Medium well | 135 °F(57 °C) | 1 to 2 hours |
| Well done | 145 °F(63 °C) | 1 to 2 hours |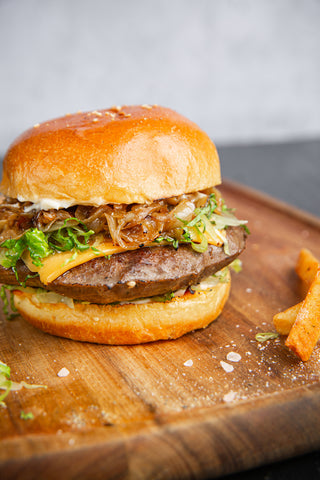 Ingredients:
2 lbs. ground beef, 4 x 8 oz. (226g) per patty, 70% lean 30% fat
4 brioche buns, burger buns of choice
4 tbsp. unsalted butter
4 slices cheese
2 heads lettuce, thinly sliced
3 tbsp. mayonnaise
1 tbsp. olive oil
Salt and black pepper to taste
Caramelized Onion
2 medium-sized onions, thinly sliced
2 tbsp. olive oil
3 tbsp. water
Instructions:
Caramelized Onions
In a large skillet on medium heat, add oil and sauté sliced onions until soft. Turn to low heat and continuously stir onions until golden brown, adding water if necessary. 
Burger Patties 
Preheat your KitchenBoss sous vide cooker to your preferred final temperature according to the table above. 
Weigh and shape ground beef to 8 ounce patties. Shape patties to match the size of the buns.
Season patties with salt and black pepper. Place in individual sous vide bags. Seal the bags using a KitchenBoss vacuum sealer. Place the bag in a preheated water bath for 1-2 hours. 
Remove burger patties from the bags and dry with paper towels.
In a skillet set to medium heat, add oil and sear each patty until golden brown in color. Serve with warm burger buns, mayonnaise, sliced lettuce, cheese, and caramelized onions.