Skip to content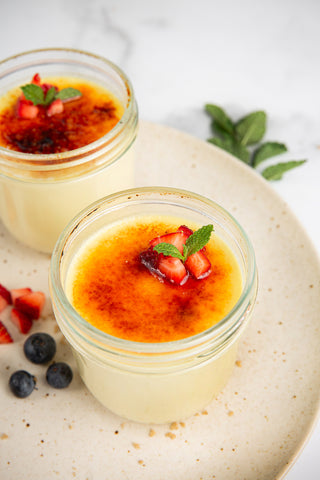 Cooking Time:2 hours   / Prep Time:15 minutes / Serves:3
Here's our take on this classic French dessert. This rich vanilla custard is perfect for ending any feast on a sweet note.
Temperatures and Timing
| | | |
| --- | --- | --- |
| Texture | Temperature Range | Timing Range |
| Silky, soft-set | 185 °F(85 °C) | 1 hour and 30 minutes |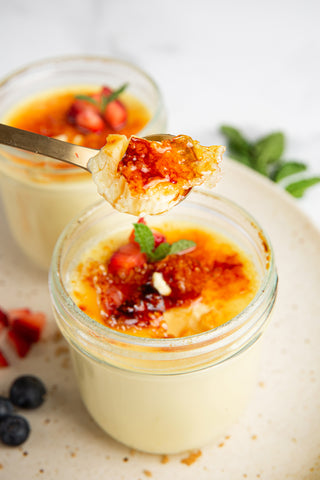 Equipment:
8 oz.(237mL) glass jar with lid
Ingredients:
4 large egg yolks
1 3/4 cups(420g) heavy cream
1 tbsp. vanilla extract
3/8 cup(38g) white sugar
Garnish:
3 tbsp. white sugar
2 strawberries, diced
2 sprigs mint leaves
Instructions:
Preheat your KitchenBoss sous vide cooker to 185 °F (85 °C)
Place egg yolks, sugar, and vanilla extract into a medium bowl and mix well. In a saucepan, warm the heavy cream to 185 °F (85 °C). Turn off heat and pour a small amount of cream into the yolk mixture to temper. Whisk the mixture while pouring in the remaining cream. Use a fine strainer to strain the mixture into glass jars. Whisk strainer to speed up the process.
Cover the jars with lids. Place the jars into the preheated water bath for 1 hour and 30 minutes.
After the cooking time is reached, remove lids and store in the refrigerator for 2 hours.
Prior to serving, add sugar on the surface of each creme brûlée and use a cooking torch to caramelize. Add diced strawberries and mint leaves to garnish. 
Sunday,Monday,Tuesday,Wednesday,Thursday,Friday,Saturday
January,February,March,April,May,June,July,August,September,October,November,December
Not enough items available. Only [max] left.
Add to Wishlist
Browse Wishlist
Remove Wishlist