Duck Breast with Caramel Apple Sauce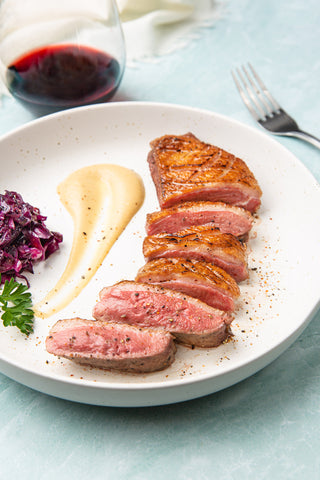 Cooking Time: 2 to 3 hours   / Prep Time: 30 minutes / Serves:2
Most suited for festive dinners, this recipe is sure to wow your guests! Cooking sous vide will make your duck breasts juicy and tender.
Temperatures and Timing
| | | |
| --- | --- | --- |
| Doneness | Temperature Range | Timing Range |
| Medium rare | 125 °F (51 °C) | 1 hours |
| Medium | 130 °F (54 °C) | 2 hours |
| Medium well | 135 °F (57 °C) | 2 hours |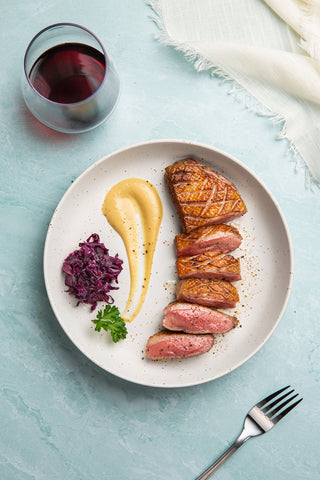 Ingredients:
2 x 6 to 8 oz (226g). duck breasts, skin-on
Salt, black pepper to taste
Stewed Sweet & Sour Red Cabbage
2 cups(188g) of red cabbage
2 tbsp. olive oil
3 tbsp. white sugar
2 tbsp. red wine vinegar
1/4 cup(60mL) water
Salt and black pepper to taste
Caramel Apple Sauce
2 green apple, cored and sliced
2 tbsp. unsalted butter
3 tbsp. white sugar
2 tbsp. brandy wine or rum
1 cup(250mL) apple juice
1 tsp. cinnamon powder
Instructions:
Stewed Sweet & Sour Red Cabbage
On medium-high heat, heat oil and sauté chopped red cabbage for 2 to 3 minutes. Add red wine vinegar, water, sugar and cook until soft. Add salt and black pepper to taste. Cover with foil and save for later.
Caramel Apple Sauce
Melt butter on medium heat in a saucepan until bubbles are formed and add green apple slices to cook for 3 minutes. Add sugar and cook until apple slices are light brown. Add Brandy or rum to deglaze until evaporated. Add apple juice to simmer for 2 minutes. Finally, use a blender to blend everything until smooth and set aside.
Duck Breast
Preheat your KitchenBoss sous vide cooker to your preferred final temperature according to the table above. 
Season duck breasts with salt and black pepper. Place breasts in individual sous vide bags. Seal the bags using a KitchenBoss vacuum sealer. Place the bags in the preheated water bath for the appropriate time in accordance with the table above.
Remove breasts from bags and dry with paper towels. 
In a skillet, heat oil on high heat. Sear the duck breast until both sides are golden brown. Remove from the pan and let rest for 5 to 8 minutes. Slice and serve with the sweet & sour red cabbage and caramel apple sauce.
New York Steak

Add a bit of freshness and kick to your sous vide New York strip steak with the sizzling taste of sautéed vegetables neatly prepared in a creamy mushroom sauce.


Coddled Eggs

Start your dy off right with perfectly cooked sous vide eggs and creamy mashed potatos.A crowd favorite for the entire family!