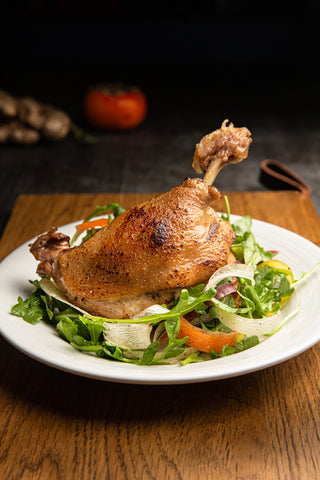 Cooking Time:6 hours   / Prep Time:30 minutes / Serves:2
The luxury of French cuisine is within your grasp. This quick and easy method for making duck confit is outrageously good!
Temperatures and Timing
| | | |
| --- | --- | --- |
| Texture | Temperature Range | Timing Range |
| Tender/shared  | 180 °F (82 °C) | 5 hours |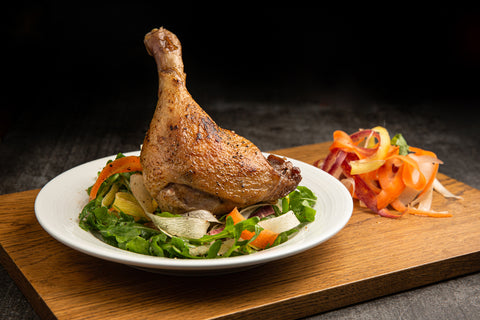 Ingredients:
2 x 6 to 8 oz. (226g) whole duck legs, bone-in
½ cup(120g) duck fat
2 cups(40g) baby arugula
3 baby rainbow carrots 
Marinade ingredients
2 sprigs tarragon, chopped leaves only
2 sprigs rosemary, chopped leaves only
2 cloves garlic, chopped
1 tsp. five-spice powder
1/4 cup(55g) salt
1/4 cup(50g) sugar
Whole Grain Mustard Dressing
1 tbsp. whole grain mustard
1 tbsp. lemon zest
1 tbsp. lemon juice
2 tbsp. extra-virgin olive oil
Salt and black pepper to taste
Instructions:
Whole Grain Mustard Dressing
Mix ingredients in a salad bowl. Mix well and season with salt and black pepper to taste. Set aside for later.
Duck Leg
Create marinade by mixing ingredients together. Marinate duck legs and store in the refrigerator for 2 hours.
Preheat your KitchenBoss sous vide cooker to 180 °F (82 °C). 
Rinse duck legs and dry with a paper towel. Place legs in individual sous vide bags. Seal the bags using a KitchenBoss vacuum sealer. Place the bag in the preheated water bath for 5 hours. Once done, remove legs from sous vide bags.
In a skillet, heat oil on high heat until hot. Sear the duck leg on both sides until golden brown. Remove from the pan and let rest for 5 to 8 minutes. Debone duck leg and serve guests with baby arugula salad and whole grain mustard dressing.