Herb Crusted Rack of Lamb with Red Wine Sauce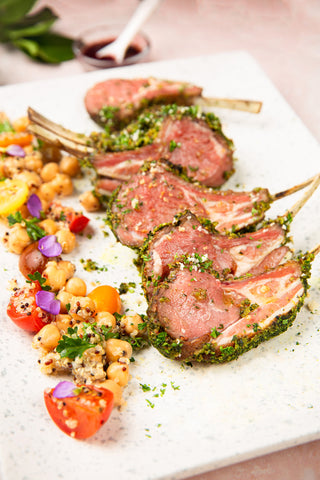 Cooking Time:3 hours   / Prep Time:30 minutes / Serves:2
Rack of lamb is an ideal meat for cooking sous vide as it is easily overcooked with other methods. Get ready to delight your guests with better-than-restaurant results!
Temperatures and Timing
| | | |
| --- | --- | --- |
| Doneness | Temperature Range | Timing Range |
| Medium | 135 °F (54 °C) | 2 hours |
| Medium well | 145 °F (63 °C) | 2 hours |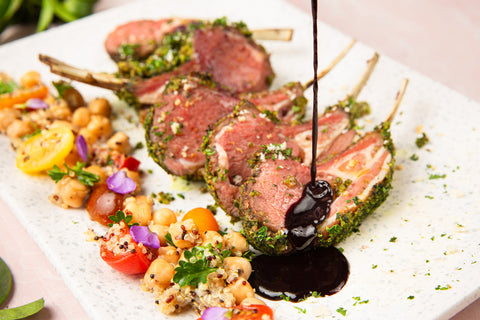 Ingredients:
3 x 7 oz.(198g) racks of lamb
3 tbsp. Dijon mustard
1/4 cup(50g) cooked quinoa
1/8 cup(6.5g) red onions, thinly sliced
1/4 cup(43g) can chickpeas
Salt and black pepper to taste
Green Herb Mixture
2 tbsp. basil leaves
2 tbsp. mint leaves
2 tbsp. parsley
1 tsp. thyme
2 tbsp. Parmesan cheese
1/4 cup(25g) bread crumbs of choice
1 tbsp. extra-virgin olive oil
1 pinch of salt
Red Wine Sauce
1 1/2 oz.(43g) shallots, diced
2 cloves garlic, chopped
1 stalk rosemary
2 cups(500mL) red wine of choice
2/3 cup(150mL) chicken stock
1 tbsp. butter
Instructions:
Red Wine Sauce
Cook shallots on medium heat until soft then add garlic and rosemary. Continue cooking for 1 minute and then add red wine and chicken stock to reduce the liquid to almost nothing. Strain.
When serving, warm the liquid and add butter, allowing it to melt.
Green Herb Mixture
Add ingredients into a blender. Blend until the herb mixture looks like little leafy crumbs. Set aside.
Rack of Lamb
Preheat your KitchenBoss sous vide cooker to your preferred final temperature according to the table above. 
Season racks with salt and black pepper. Place in individual sous vide bags. Seal the bags using a KitchenBoss vacuum sealer. Place the bags in the preheated water bath. Let cook for 2 hours.
Remove the racks from the bags and dry with paper towels. 
On high heat, heat oil in a skillet. Once hot, sear the lamb rack on both sides including the edges until golden brown. Remove from the pan, brush the lamb rack with Dijon mustard and dip in the green herb mixture. Ensure the herb mixture evenly covers the lamb. Bake the lamb in an oven at 325 °F (180 °C) for 3 minutes. Let the meat rest for 5 to 10 minutes. Slice and serve with quinoa, chickpeas, cherry tomatoes, and red onions.