Scallops with Chorizo and Fresh Corn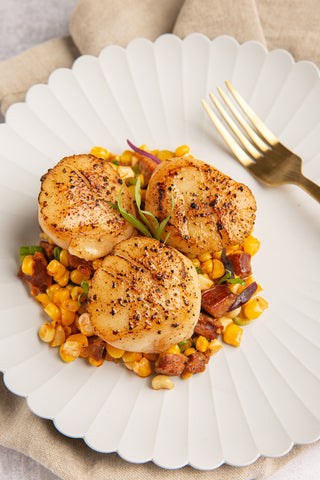 Cooking Time:1 hour   / Prep Time: 15 mins / Serves:2
For these jewels of the sea, chorizo and corn adds the right amount of zest—ideal for your next party! The sweet, white flesh of scallops contain no protective fat, making the sous vide method perfect for ensuring even cooking throughout.
Temperatures and Timing
| | | |
| --- | --- | --- |
| Texture | Temperature Range | Timing Range |
| Tender and juicy | 130 °F (54°C) | 25 minutes |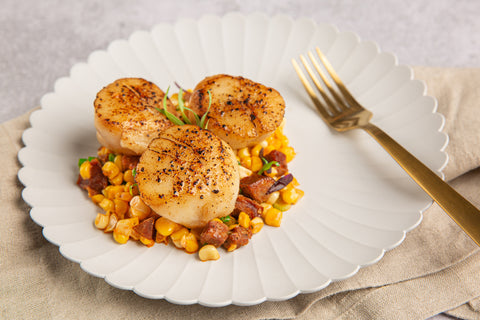 Ingredients:
6 x jumbo fresh scallops, side muscle removed
2 tbsp. olive oil
Salt and black pepper to taste
Fresh Corn Side Dish
1 ear of corn
1/2 cup(76g) chorizo, medium diced
1 tbsp. olive oil
2 tbsp. unsalted butter
1 tsp. lime juice
1 tsp. lime zest
1/8 cup(13g) scallion
1 sprig tarragon
Instructions:
Fresh Corn Side Dish
Remove kernels from fresh ear of corn.
Cook chorizo in a sauce pot on medium-high heat for 1 minute until golden brown. Save chorizo for later. In the same sauce pot, use the chorizo fat to sauté fresh corn for 3 minutes on medium heat. Add the chorizo back to the sauce pot with the rest of the fresh corn side dish ingredients and cook for 2 minutes.  After 2 minutes, turn heat off and keep warm until scallops are ready.
Seared Scallop 
Preheat your KitchenBoss sous vide cooker to 130 °F (54°C). 
Season scallops with salt and black pepper. Place in individual sous vide bags alongside aromatic ingredients.  Seal the bags using a KitchenBoss vacuum sealer. Place the bags in a preheated water bath for 25 minutes.
Remove each scallop from the bag and carefully dry with paper towels.
In a skillet, heat oil on medium-high heat. Once hot, sear the scallops on both sides for about 45 second until golden brown. Baste the scallops for 1 minute with butter for creamy flavor. Finally, serve your scallops with the fresh corn side dish.