63 °C Egg Prosciutto Benedict with Hollandaise Sauce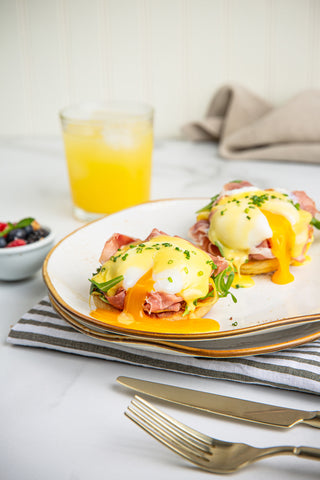 Cooking Time:1 hour and 30 minutes   / Prep Time: 20 minutes / Serves:2-4
Conquer your morning with the perfect egg benedict. Sous vide precision cooking will keep your eggs at a steady temperature to ensure they are cooked just the way you like them.
Temperatures and Timing
| | | |
| --- | --- | --- |
| Texture | Temperature Range | Timing Range |
| Runny yolk, thin-set white | 145 °F (63 °C) | 1 hour |
| Firm yolk, firm white | 147 °F (64 °C) | 1 hour |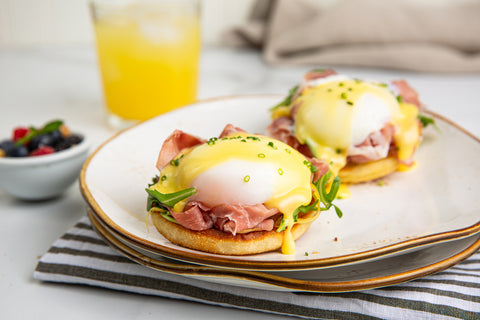 Ingredients:
4 large eggs
2 English muffins, halved
2 tbsp. unsalted butter
4 pieces Prosciutto
2 heads of lettuce, thinly sliced
Hollandaise Sauce
2 egg yolks
1 cup(227g) unsalted butter, melted
10 mL, lemon juice
1 pinch of Cayenne pepper
Salt and black pepper to taste
Instructions:
Hollandaise Sauce
Whisk egg yolks and lemon juice together in a stainless steel bowl until the mixture thickens and doubles in volume. Place the bowl over a saucepan containing barely simmering water. The water should not touch the bottom of the bowl. Continue to whisk rapidly. Be careful not to let the eggs get too hot or they may scramble. Slowly drizzle in melted butter and continue to whisk until the sauce thickens. Season the sauce with salt and pepper.  Store in a thermos or vacuum-sealed container (this keeps the sauce stable for 2-3 hours).
Sous Vide Egg with Prosciutto Benedict
Preheat your KitchenBoss sous vide cooker to the desired final temperature according to the table above. 
Use a spoon or spider strainer to gently place eggs at the bottom of the sous vide container.
Let eggs cook for 1 hour, then remove them from the water.
Heat a pan to medium heat in order to melt butter. Put muffin halves onto the pan and make sure all of the butter is absorbed. Cook muffins until golden and crisp on both sides.  
Place the prosciutto on top of the crisp muffin halves and add slices of lettuce. Crack the sous vide egg on the bowl and gently place the egg on the top of the lettuce.  Pour Hollandaise sauce over the eggs and enjoy.