Coddled Eggs and Mashed Potatoes with Buttered Toast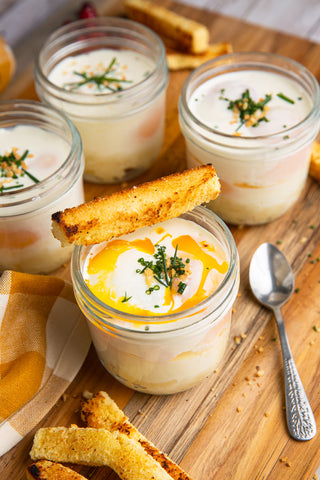 Cooking Time:1 hour and 30 minutes   / Prep Time:15 minutes / Serves:4
Start your day off right with perfectly cooked sous vide eggs and creamy mashed potatoes. A crowd favorite for the entire family!
Temperatures and Timing
| | | |
| --- | --- | --- |
| Texture | Temperature Range | Timing Range |
| Light firm, runny egg | 145 °F(63 °C) | 1 hour |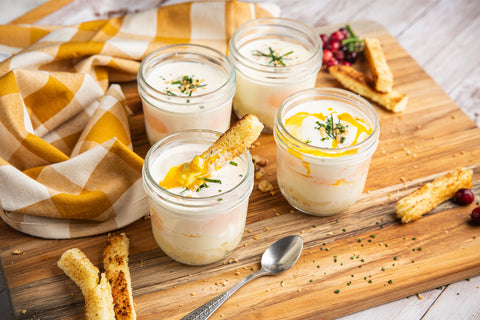 Equipment:
4 x 8 oz. (237mL) glass jars
Ingredients:
4 large eggs
¼ cup chives(24g), chopped
3 1/2 oz.(100g) potatoes, peeled, cubed, soaked in water
4 tbsp. unsalted butter
Salt and black pepper to taste
Buttered Toast
4 tbsp. unsalted butter
3 x brioche bread, bread of choice, sliced 1" wide, crust off
Instructions:
Mashed Potatoes
Bring a pot of salted water to boil. Add potatoes and cook for 10 minutes until tender but firm. Drain.
In a bowl, add potatoes and melted butter and mash until smooth. Add salt and black pepper to taste. Set aside.
Eggs and Mashed Potatoes
Preheat your KitchenBoss sous vide cooker to 145 °F (63 °C)
Crack the egg into a glass jar with mashed potatoes at the bottom. Place the glass jar in the preheated water bath for 1 hour.
Remove the jar from the water and open. Serve with toast.
Buttered Toast
Melt butter on medium heat on a skillet. Add sliced bread and toast on pan until crisp