King Oyster Mushrooms with Garlic Vinaigrette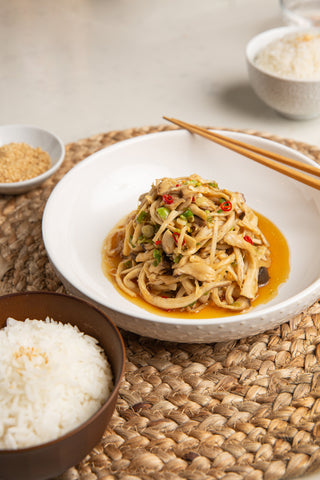 Cooking Time:1 hour   / Prep Time:15 minutes / Serves:2-3
Bring out the flavors of your king oyster mushrooms with this garlic vinaigrette. Quick to prep and perfect for those who don't eat meat.
Temperatures and Timing
| | | |
| --- | --- | --- |
| Texture | Temperature Range | Timing Range |
| Tender  | 185 °F (85 °C) | 45 minutes |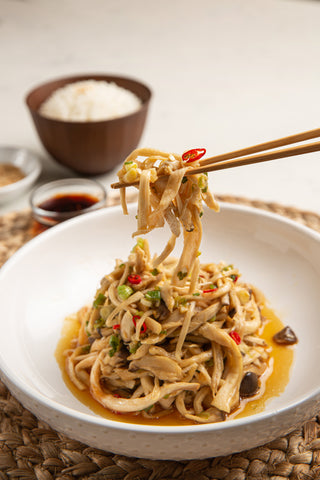 Ingredients:
12 oz.(340g) king oyster mushrooms, shredded into pieces
Garlic Vinaigrette
4 cloves fresh garlic, minced
1/4 cup(60mL) vegetable oil
1 tbsp. sesame oil
1 scallion, sliced
1 fresh red chili, thinly sliced
2 tbsp. white vinegar
3 tbsp. soy sauce
1 tbsp. white sugar
Instructions:
Garlic Vinaigrette
Place minced garlic and sliced chili into a bowl. Heat the vegetable oil in a saucepan until it lightly smokes. Pour the hot oil into the bowl and gently mix with the minced garlic and sliced chili. Add sliced scallions, sesame oil, white vinegar, soy sauce and white sugar. Mix well and set aside.
King Oyster Mushroom
Preheat your KitchenBoss sous vide cooker to 185 °F (85 °C). 
Place the king oyster mushrooms into a sous vide bag. Seal the bag using a KitchenBoss vacuum sealer. Place the bag in the preheated water bath for 45 minutes.
Remove mushrooms from the bag and strain.
In a salad mixing bowl, mix the cooked mushrooms with the garlic vinaigrette (to taste).