Lobster Tail on a Toasted Bun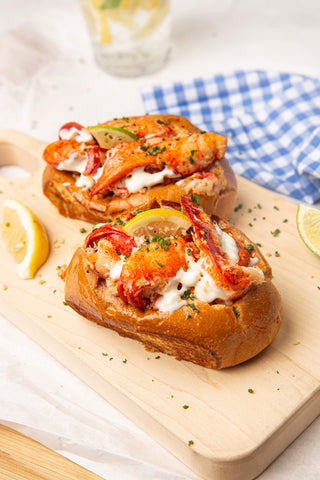 Cooking Time:1 hour and 30 minutes   / Prep Time:20 minutes / Serves:2
Say no to rubbery or overcooked lobster meat! Sous vide cooking ensures perfectly succulent lobster each and every time. Serve in bread rolls for your guests to enjoy!
Temperatures and Timing
| | | |
| --- | --- | --- |
| Texture | Temperature Range | Timing Range |
| Soft, slick  | 120 °F (49 °C) | 1 hour |
| Tender, juicy | 130 °F (54 °C) | 1 hour |
| Traditional | 140 °F (60 °C) | 1 hour |
Ingredients:
2 x 5 to 6 oz.(141-170g) lobster tails
2 tbsp. unsalted butter
2 hotdog buns
1/4 cup(25g) celery, diced
1/8 cup(12g) chives, finely chopped
2 tbsp. mayonnaise
Aromatics
2 tbsp. unsalted butter
2 cloves garlic, smashed
2 tbsp. lemon zest
2 sprigs Tarragon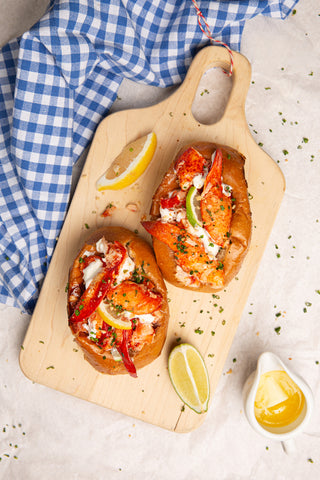 Instructions:
Toasted Bun 
Use a bread knife to remove crust and square off hot dog buns to make them look more appealing.
Melt butter on medium heat and place hot dog buns to absorb butter evenly on both sides. Toast until golden for later use.
Seared Lobster Tail
Preheat your KitchenBoss sous vide cooker to your preferred temperature in accordance with the table above. 
Season lobster tails with salt and pepper. Place in individual sous vide bags with aromatic ingredients.  Seal the bags using a KitchenBoss vacuum sealer. Place bags in the preheated water bath for 1 hour.
When the lobster tails are ready, remove the bags from the water bath. Remove tails from bags and chop into small pieces before placing them into a mixing bowl. Mix in diced celery and mayonnaise.
Spread the lobster mixture onto your butter toasted bread. Garnish with chives before serving.