Mussels with Beurre Blanc Sauce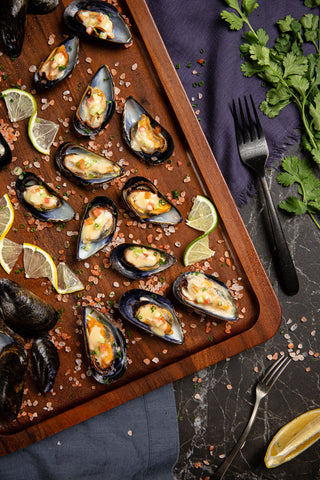 Cooking Time:30 minutes   / Prep Time:10 minutes
Serves:2
A classic French sauce that is a simple and elegant finish to any seafood dish. Perfect for dinner parties during the winter season.
Temperatures and Timing
| | | |
| --- | --- | --- |
| Doneness  | Temperature Range | Timing Range |
| Well done | 185 °F (85 °C) | 4-5 minutes (base on size) |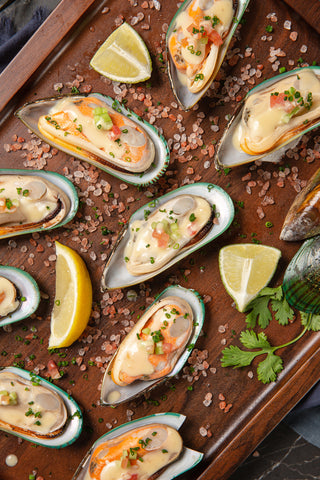 Ingredients:
1/2 lbs.(227g) fresh mussel
1/4 cup(50g) fresh Roma tomato, finely diced
1/4 cup(30g) cucumber, finely diced
Beurre Blanc Sauce
1/2 cup(125mL) white wine
2 tbsp. lemon juice
1 tsp. shallot, finely diced
1 pinch of Cayenne pepper
2 tbsp. heavy cream
1 stick 4 oz.(113g) unsalted butter, cut into 1" cubes 
Instructions:
Beurre Blanc Sauce
In a medium pan, add white wine, lemon juice, diced shallots, and heavy cream. Cook on medium heat to reduce the liquid until it has mostly evaporated.
Turn heat to low and start whisking while adding in butter cubes (one or two at a time). As the butter melts, add more and continue whisking. When the sauce thickens, season with salt (to taste) and add cayenne pepper for more flavor.
Use a thermos or other container to store the beurre blanc sauce. The sauce can be stored for 1 hour.
Mussels
Preheat your KitchenBoss sous vide cooker to 185 °F (85 °C).
Place the mussels in a sous vide bag. Seal the bag using a KitchenBoss vacuum sealer. Place the bag in a preheated water bath for 4-5 minutes.
Remove mussels from the bag and half deshell.
Place the half-deshelled mussels on a plate. Add diced tomatoes and diced cucumber and pour beurre blanc sauce on top to serve.