Pork Cheek with Pickled Fennel and Yogurt Sauce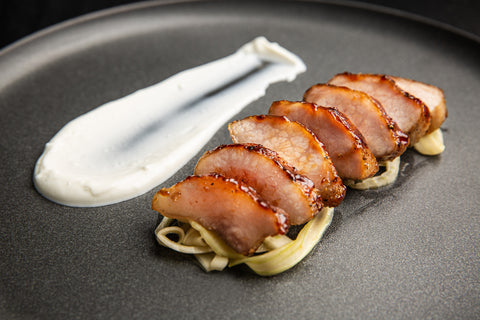 Cooking Time:2 to 3 hours   / Prep Time: 15 minutes / Serves:4
Get ready for tender pork cheeks that retain their flavor while soaked in a rich yogurt sauce. Sous vide cooking locks in natural flavor, allowing you to cook the perfect pork cheek.
Temperatures and Timing
| | | |
| --- | --- | --- |
| Texture | Temperature Range | Timing Range |
| Tender, juicy |  145 °F(63 °C) | 1 hour and 30 minutes |
| Firm |  145 °F(63 °C) | 2 hours |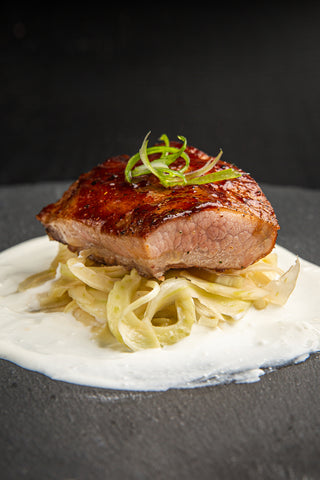 Ingredients:
10 oz.(284g) pork cheek, fat trimmed, cut 2" to 3" wide
2 tbsp. olive oil
Salt and black pepper to taste
Pork Cheek Sauce
2 tbsp. hoisin sauce
1 tbsp. soy sauce
1/4 tsp. five-spice powder
1/4 tsp. white pepper
Yogurt Sauce
3 1/2 oz.(100g) plain greek yogurt
2 tbsp. whole fat milk
1 pinch of salt
Pickled Fennel
1 fennel bulb, 7 oz.(198g), thinly sliced
1 cup(250mL) water
1/2 cup(125mL) white vinegar
1/2 cup(100g) sugar
1 tbsp. salt
2 star anise
Instructions:
Pork Cheek Sauce
Mix all ingredients in a bowl and set aside for later.
Yogurt Sauce
Similar to the last step, mix all ingredients thoroughly and set aside for later.
Pickled Fennel
Put all ingredients except for fennel into the sauce pot. Bring to boil, turn off heat, and let cool. Add the sliced fennel into the pickling solution to infuse flavor. Save for later.
Seared Pork Cheeks 
Preheat your KitchenBoss sous vide cooker  to 145 °F(63 °C). 
Season pork cheeks with salt and black pepper. Place in individual sous vide bags. Seal the bags using a KitchenBoss vacuum sealer. Place the bag in the preheated water bath for your preferred time according to the table above.
Remove pork cheeks from bags and dry with paper towels.
On high heat, heat oil in a skillet. Sear the pork cheek until both sides are golden brown. Remove from the pan and brush pork cheeks with the pork cheek sauce. Serve with yogurt sauce and pickled fennel.