Pork Chops with Sweet & Sour Bell Peppers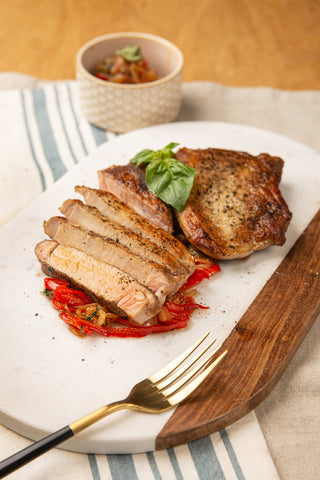 Cooking Time: 2 hours  to 2 hours and 30 minutes / Prep Time: 15 mins / Serves:2
Want to know the easiest method for cooking the perfect pork chops each and every time? You guessed it. The sous vide method achieves this and more with minimal work. Create pork chops with a wonderful texture that will keep your guests satisfied and begging for more.
Temperatures and Timing
| | | |
| --- | --- | --- |
| Texture | Temperature Range | Timing Range |
| Very tender, moist | 135 °F (54 °C) | 1 hour |
| Tender, juice | 140 °F (60 °C) | 1 hour |
| Light firm, juice  | 145 °F (63 °C) | 1 hour and 30 minutes |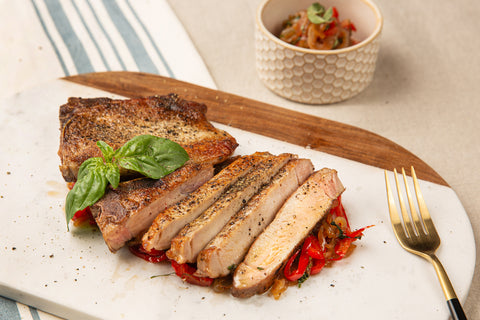 Ingredients:
2 pork loin chops, about 7 to 8 oz.(200-226g), bone in
2 tbsp. olive oil
2 cloves garlic, crushed
2 sprigs fresh thyme
Salt and black pepper to taste
Sweet & Sour Bell Peppers
1/2 red onion
1 red bell pepper, thinly sliced
1 green bell pepper, thinly sliced
1 cup(20g) fresh basil, chopped
2 tbsp. white sugar
1 1/2 tbsp. red wine vinegar
1 tbsp. olive oil
Salt and black pepper to taste
Instructions:
Sweet & Sour Bell Peppers
Heat oil in a pan on high heat to sauté onions and bell peppers for 4 to 5 minutes until onions are caramelized. Add white sugar and cook for 2 minutes to bring out the flavor and color of the vegetables.
Add red wine vinegar to deglaze the pan for 1 to 2 minutes until it has reduced and the peppers are soft. Turn down the heat to low. Add chopped basil and continue to cook for 45 seconds to 1 minute then turn off the heat. Transfer to a bowl and set aside for later.
Seared Pork Loin
Preheat your KitchenBoss sous vide cooker to your preferred final temperature according to the table above. 
Season pork loin with salt and black pepper. Place chops into individual sous vide bags. Seal the bags using a KitchenBoss vacuum sealer. Place the bags in the preheated water bath for 1 to 2 hours.
Remove chops from bags and dry with paper towels.
In a large skillet, heat oil on high heat. Once hot, sear pork chops on both sides for 1 to 2 minutes or until golden brown. Add crushed garlic and fresh thyme for flavor and cook for 1 additional minute. Serve with sweet and sour bell peppers.