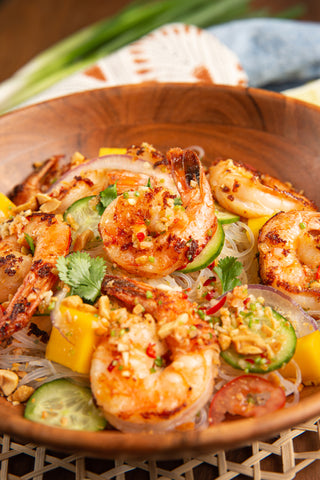 Cooking Time:1 hour and 20 mins  / Prep Time:20 minutes / Serves:2
Simple and refreshing shrimp salad prepared in a Thai style. A great starter to accompany a heavier main course.
Temperatures and Timing
| | | |
| --- | --- | --- |
| Texture | Temperature Range | Timing Range |
| Tender & juicy | 125 °F (53 °C) | 1 hour |
​

Ingredients:
6 x jumbo shrimps, peeled and deveined
1 tbsp. unsalted butter
1 tbsp. lemon zest
1/2 red onion, thinly sliced
1 1/2 oz.(43g) dry rice noodles, boiled in water for 4 to 5 minutes
1 cup(60g) cilantro, chopped
1/2 cucumber, thinly sliced
1/4 cup(35g) mango, cubed
1/8 cup(20g) roasted peanuts, chopped
6 cherry tomatoes, halved
Thai Salad Dressing
1 tbsp. dried shrimp oven baked (350 °F (180°C)) for 5 minutes, chopped
2 cloves garlic, minced
2 tbsp. fish sauce
1 tbsp. brown sugar
1 tbsp. cilantro stems
2 tbsp. lime juice
1 tbsp. filtered water
1 Thai red chili, thinly sliced 
Instructions:
Thai Salad Dressing
Place all salad dressing ingredients in a medium-sized sauce bowl. Stir well and set aside.
Shrimp & Rice Noodle Salad
Preheat your KitchenBoss sous vide cooker to 125 °F (53 °C)
Season shrimp with salt and black pepper. Place butter and lemon zest with shrimp in a sous vide bag. Seal the bag using a KitchenBoss vacuum sealer. Place the bag in the preheated water bath for 1 hour.
Remove shrimp from bag.
In a medium-sized salad bowl, place the cooked shrimp, rice noodles, sliced cucumber, cherry tomatoes, mango, chopped cilantro and Thai salad dressing. Mix well to taste. Place the salad on a plate and garnish with chopped roasted peanuts.