Beet Salad with Lemon Vinaigrette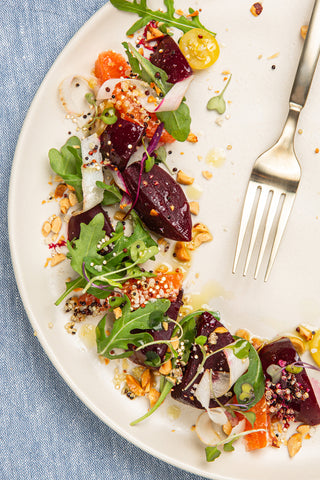 Cooking Time:2 hours and 30 minutes   / Prep Time:15 minutes / Serves:2
Simple, tasty, and fresh beet salad! An easy and healthy way to add variety to your meal! Our sous vide method is quick and helps you make the perfect beets time after time.
Temperatures and Timing
| | | |
| --- | --- | --- |
| Texture | Temperature Range | Timing Range |
| Tender | 185 °F(85 °C) | 2 hours |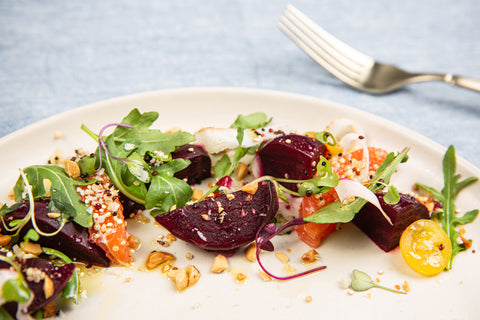 Ingredients:
1 lbs.(454g) purple beets, leaves trimmed, skin-off, and halved
1 orange, sliced and skin-off
1/4 cup(30g) salted nut mix, chopped
1 tbsp. feta cheese
¼ cup(45g) cooked quinoa 
2 cups(40g) baby arugula
Lemon Vinaigrette
2 tbsp. lemon juice
1 tbsp. lemon zest
2/3 cup(150mL) extra-virgin olive oil
1 tbsp. white vinegar
2 tsp. Dijon mustard
1 tbsp. honey
1/4 cup(60mL) water
Instructions:
Lemon Vinaigrette
Add all lemon vinaigrette ingredients in the bowl and mix well to serve later.
Beets
Preheat your KitchenBoss sous vide cooker to 185 °F(85 °C).
Lightly season beets with salt and black pepper. Place beets in individual sous vide bags. Seal the bags using a KitchenBoss vacuum sealer. Place bags in the preheated bath and cook for 2 hours.
Once ready, remove beets from the bags and cut into cubes.
Mix cubed beets with arugula, orange slices, feta cheese, salt, black pepper, and lemon vinaigrette in the salad bowl and serve.