Salmon with Kidney Bean Salad and Green Pea Sauce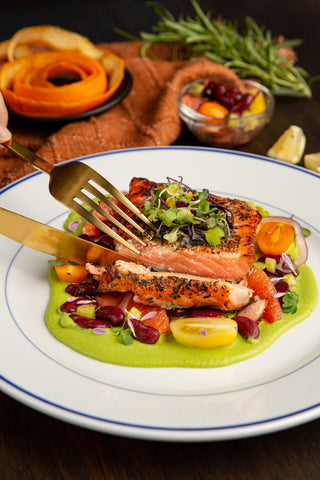 Cooking Time:2 hours   / Prep Time: 20 minutes / Serves:2
As with most types of fish, salmon is extremely easy to overcook. This is why sous vide is the perfect method for preparing it. Your filets will emerge bright pink with a texture that is absolutely divine.  Add in kidney beans, cucumber, onions, and green peas for enhanced contrast and flavor.
Temperatures and Timing
| | | |
| --- | --- | --- |
| Texture | Temperature Range | Timing Range |
| Soft and buttery | 110 °F (43 °C) | 1 hour 25 minutes |
| Very moist, tender | 120 °F (49 °C) | 1 hour 25 minutes |
| Moist, firm | 130 °F (53 °C) | 1 hour 25 minutes  |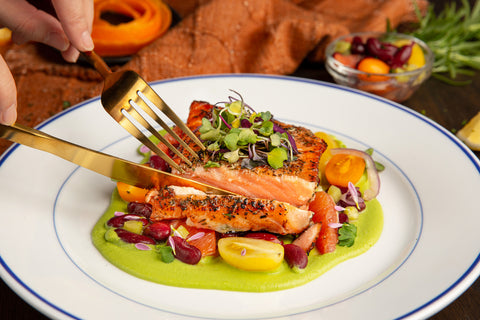 Ingredients:
2 x 4 to 5 oz.(113-141g) salmon fillet pieces, skin on
2 tbsp. olive oil
Salmon Seasoning Mix
2 sprigs rosemary (leaves only), chopped
2 cloves garlic, minced
Salt and black pepper to taste
Salad
1/2 red onion, thinly sliced
4 tbsp. kidney beans
1 cucumber, diced into cubes
2 tsp. lemon juice
1 tbsp. lemon zest
1 tbsp. extra-virgin olive oil
Salt and black pepper to taste 
Green Pea Sauce
2 cups(270g) frozen green peas, thawed
3 tbsp. green peas water
1 tbsp. unsalted butter
1 tbsp. lemon juice
1 pinch of salt
Instructions:
Green Pea Sauce 
Blanch green peas in salted boiling water for 2 to 3 minutes. Strain the green peas and save some of the water for the sauce. Rinse peas with cold water to stop the cooking process (this helps the peas stay green).
Place peas, butter, and the rest of the pea sauce ingredients into a bowl and blend until smooth. Cover with plastic wrap for later use (do not heat sauce until serving).
Kidney Bean Salad
Put the desired amount of kidney beans into a bowl. Add sliced red onions and cucumber pieces with the rest of the salad ingredients in the bowl. Mix to taste.
Salmon Seasoning Mix
Mix minced garlic, chopped rosemary leaves, and salt and pepper (to taste) on a plate.  
Seared Salmon
Preheat your KitchenBoss sous vide cooker to the desired final temperature according to the table above. 
Season salmon with salmon seasoning mix. Place in individual sous vide bags. Seal the bags using a KitchenBoss vacuum sealer. Place the bags in a preheated water bath and allow salmon to cook for the appropriate time based on the table above. When the salmon is ready, remove the bag from the water bath. Carefully dry the salmon with a paper towel.
In a large skillet, heat oil over medium-high heat. Once hot, sear skin-side-down for 3 to 4 minutes until the skin is gold and crispy. Flip and sear the other side until golden brown. Serve with warm green pea sauce and kidney bean salad.